Building A Great Place to Work: Safety & Wellness
October 12, 2022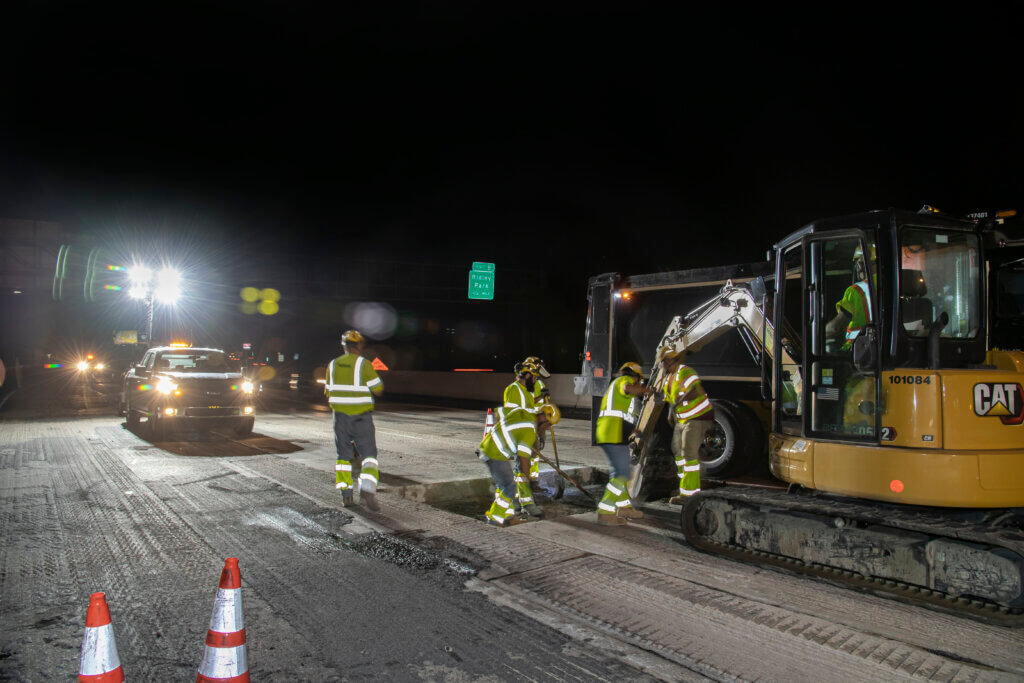 Highway Safety Program Goal Is World's Safest Work Zone
Industry statistics show deaths are increasing in highway work zones. That is more than enough to spur heightened concern about work zone safety. Add to the stats the sobering fact that 1,000 Allan Myers employees are exposed every day to high-risk activities in and around traffic. Then add the sad fact that work zone incidents caused one fatality and two serious injuries to trade partner employees and one serious injury to a Myers employee in just the last two years.

In one sentence, Ross Myers raised the alarm and raised the bar: "We will have the safest work zones in the world." He tasked company leaders with investigating and implementing best-in-class work zone plans, tools, and training to reduce the risk to employees and trade partners.
Created Our Own Standards
Our work zones always have met state DOT safety standards, so becoming best in class meant creating our own higher standards. Hours of research, assessments, and trials resulted in the new Respect the Risk safety program and increased visibility measures for our people and equipment.

Respect the Risk directs employees to the safest places in a work zone based on the person's role and task. It uses the traffic light colors red, yellow, and green to identify areas of high, medium, and low risk for injury if an incident occurs. During the beginning of shift huddles, crews are trained on the red, yellow, and green areas of that day's work site. Our trade partners get this training during "Start Safe" meetings prior to starting a job.

"The risk cannot be eliminated completely but it can be reduced if every person takes responsibility for himself and those around him," said Paul Ziegler, VP, of Safety.
Made Our Own Light Kits
To increase the visibility of our people and equipment, HSE and Shop employees searched for the best lighting kits, reflective tape, and additional PPE.

A bright enough lighting kit did not exist, so Steve Wehr, Field Manager, built a prototype for a Myers pickup truck with the assistance of a vendor. Equipment Managers Amanda Knauer and David Levengood took the concept, bought the parts and pieces, and fabricated kits for our TMAs and F350s.

In addition, we have added highly reflective ghost tape to all our equipment for increased visibility. Our employees are also wearing additional reflective PPE to increase their visibility. All of these extra safety measures have been received well by employees and have gained the attention of some peer companies who asked what we're up to.

"We've made some big leaps, but we're not done. This effort is evolving," said Paul. "Technology will change. Behaviors will change. We have to keep looking for ways to keep our people safe."

Fatal Crashes and Pedestrian Deaths Increasing in Work Zones
The Associated General Contractors of America's (AGC) 2021 nationwide study on highway work zone safety reports that 60% of highway contractors reported work zone crashes in 2021; 78% reported that the risk of highway work zone crashes is greater now than a decade ago.

In 2018, there were 122 cases of pedestrians killed in work zone crashes. Work zone pedestrian fatalities are often assumed to be members of the public; however, in 2018, more than one-third were people working at their jobsite, primarily doing road work, utility work, or planning/surveying.
CONTACT US
Looking to partner, purchase materials or apply for career opportunities?
View our directory. For general inquiries, call: 1-610-584-6020.