Our Helping Hand Up initiative leaves footprints in the communities where we live and work while partnering with and supporting deserving charitable organizations, all with a shared passion for helping other people. Nearly $1 million plus countless volunteer hours and gifts from partners have been given to help those in our communities that need support towards stepping up in their own lives.
Employees make up regional teams that focus on giving efforts that will make the most impact locally. The organizations we support are the unsung heroes in our communities, helping those in need step up to a brighter future.
Projects have included fundraisers, road races and bike rides, backpack stuffing, coat drives, property repairs, STEM education, and many others. Myers also support passions of employees through our matching gift program.
Helping Hand Up supports qualified organizations that have a primary mission in one or more of the following categories: serious/chronic illness or medical condition, family and social services, community and individual development, and education.
Many organizations touched by Helping Hand Up's efforts share gratitude for the impact the Allan Myers employees have on many lives. The dedication, professionalism and commitment of the employees is a testament to the "give back" culture at Allan Myers.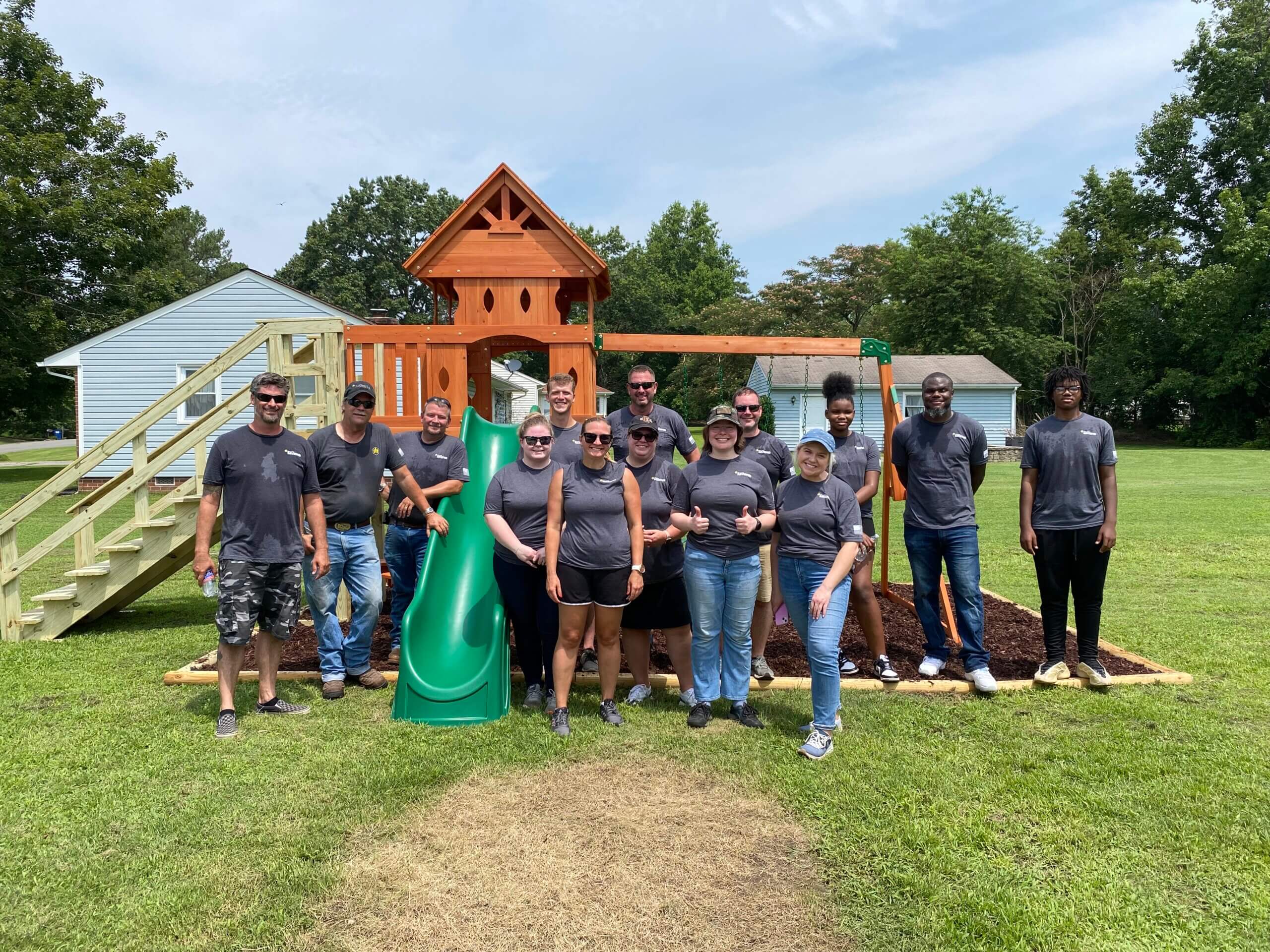 "Everyone from Helping Hand Up has been so giving and supportive. It has been such a comfort having a partner with expertise and the right equipment that we don't have and couldn't pay for. We don't always have enough money to feed our horses let alone do major improvements to our pastures. A group of Helping Hand Up volunteers gave selflessly of their time and skills for an entire Sunday to grade a very steep slope that we need to lead large horses down. The outcome is a gentler slope that has brought safety to our volunteers, staff, and the horses! Helping Hand Up is doing the heavy lifting that we can't do alone." – Julie Casso, Executive Director, Life Me Up, Fairfax County, Va.

"Our relationship with Allan Myers and Helping Hand Up means having a trusted, reliable, and supportive community partner. It takes a lot of love and labor to maintain our 77-acre campus, and we are continually grateful to be able to tap into Allan Myers' expertise and resources to help us plan our projects thoughtfully and complete them with great care. The volunteers from your company have provided labor and resources to set up events throughout the year and also make our campus functional and well-maintained. These collaborative efforts have helped the community learn more about Variety and Allan Myers." – Dominque Bernardo, Chief Executive Officer, Variety the Children's Charity, Montgomery County, Pa.


"Our partnership with Helping Hand Up has been invaluable. It is one of our most prized partnerships at Good Samaritan. Having a company like Allan Myers that believes in our work and is intentional about supporting our success has been a tremendous boost of confidence to me and our program. Allan Myers could partner with any organization in the mid-Atlantic region, but to have the stamp of approval from such a large, reputable, and accessible partner is worth more than any check. Your employees should know they are part of something big that is making our communities better and healthier." – Nate Hoffer, Chief Executive Officer, Good Samaritan, Chester County, Pa.


"Helping Hand Up has been a huge help to us, mostly with the savings that allowed us to finish our house project. We have been working on another house for over two years. With Helping Hand Up providing the labor and resources, we were able to finish Biddle House (circa 1939). Now we can accommodate more students into the program and host expert watchmaking instructors from around the world. I am proud to be associated with your company, and your employees should be proud to work for a company that is so giving." – Sam Cannan, Co-Founder/Chairman of the Board and Master Watchmaker, Veteran Watchmakers Initiative, New Castle County, Del.