Arlington National Cemetery Project Completion
September 1, 2023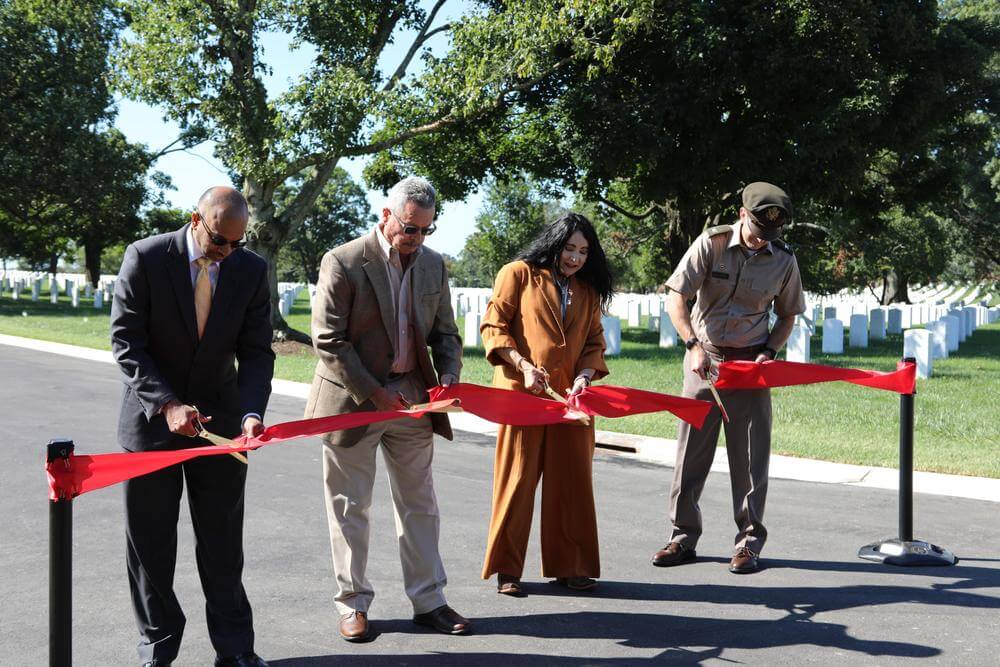 Allan Myers recently completed the project at Arlington National Cemetery, in Arlington, Va., for the U.S. Army Corps of Engineers. Other than a few punch list items, the project is complete and was celebrated with a ribbon cutting ceremony on Aug. 16.
"I am delighted that you honored your commitment and that we are here today to deliver this important project," said Karen Durham-Aguilera, Executive Director, Army National Military Cemeteries. "To Allan Myers and the entire team, you should be proud."
Allan Myers began construction in September 2022 to rebuild approximately two miles of roadway within the cemetery. The project included fortifying road foundations, installing new storm drains, curbstone paving, and adding capability for upgraded technologies.
Due to the important nature of this national cemetery, this project came with challenges. Nearly 400,000 people are buried in ANC including presidents, Medal of Honor recipients, astronauts, military leaders and our nation's veterans. Thousands of people visit the sacred grounds each day.
"There were lots of challenges to this project," Senior Project Manager Craig Cheney said. "We had extremely high expectations and the Army Corps of Engineers has extremely high standards."
Some of the work performed was within a foot of a headstone so the crews treated every activity with a lot of care and concern.
"We would look around and see Medal of Honor recipients around us and knew we had to handle the area with so much respect," Craig said.
There are an average of 25 funeral services a day that could bring the project to a temporary halt if the service was in the line of sight of the job. Even with the temporary interruptions, the overall completion of the project was delivered on time.
"I could not speak more highly of our crews," Craig said. "They did a great job with the demands of this high-profile project. It was an honor to be working at Arlington National Cemetery."