Allan Myers, a family-owned business of 80+ years, is seeking to rehabilitate a dormant cement plant in Manassas for a brand new, state-of-the-art asphalt plant. We will create 50 new local well-paying jobs, the majority of which pay more than the average salary for Prince William County residents. The design, construction and operation of the facility will far exceed regulatory and safety standards and be among the cleanest and quietest facilities of its type in the country.
We invite you to learn more about the project and our company's good neighbor efforts here.
Allan Myers, un negocio familiar establecido hace más de 80 años, pretende rehabilitar un planta cementera inactiva en Manassas para convertirla en una nueva y moderna planta de asfalto. Generaremos 50 nuevos empleos locales bien remunerados, en la mayoría de los cuales el salario será mayor que el salario promedio para los residentes de Prince William County. El diseño, la construcción y la operación de la planta excederán en gran medida las normas regulatorias y de seguridad, por lo que la planta estará entre las más limpias y silenciosas de su tipo en el país.
Le invitamos a obtener más información aquí acerca de este proyecto y de los esfuerzos de buen vecino de nuestra compañía.
See how Allan Myers supports and partners with their neighbors
Vea cómo Allan Myers apoya y forma alianzas con sus vecinos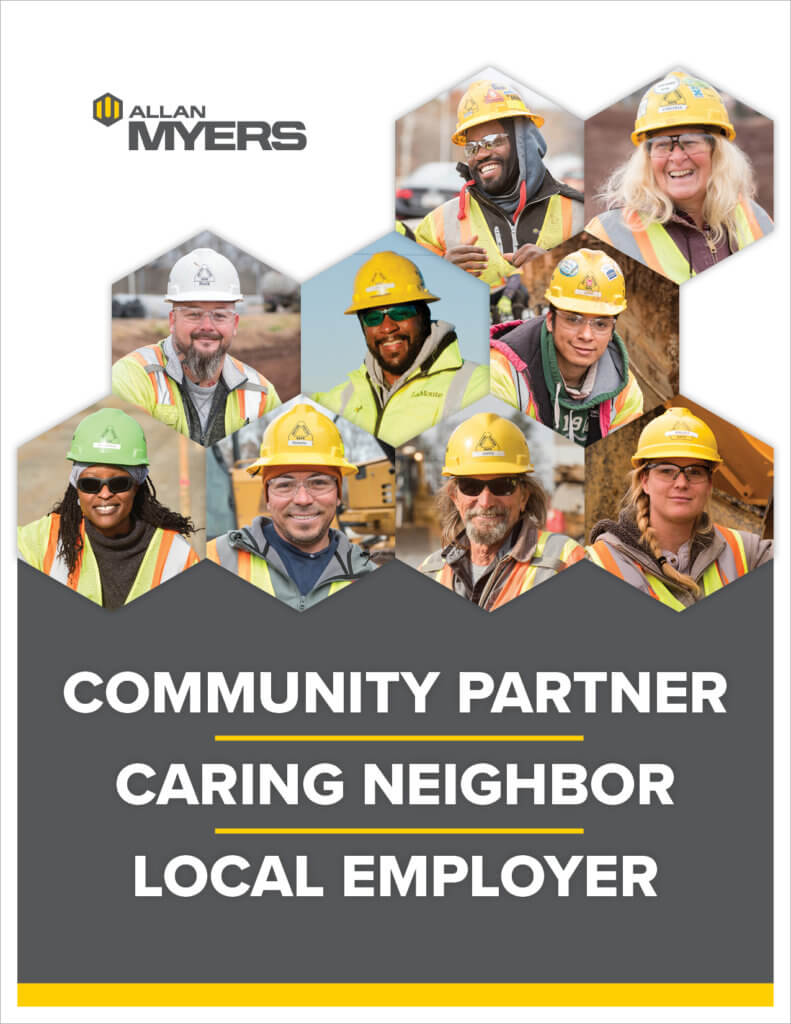 Learn more about the proposed project and community enhancements
Obtenga más información acerca de las propuestas para el proyecto y mejoras a la comunidad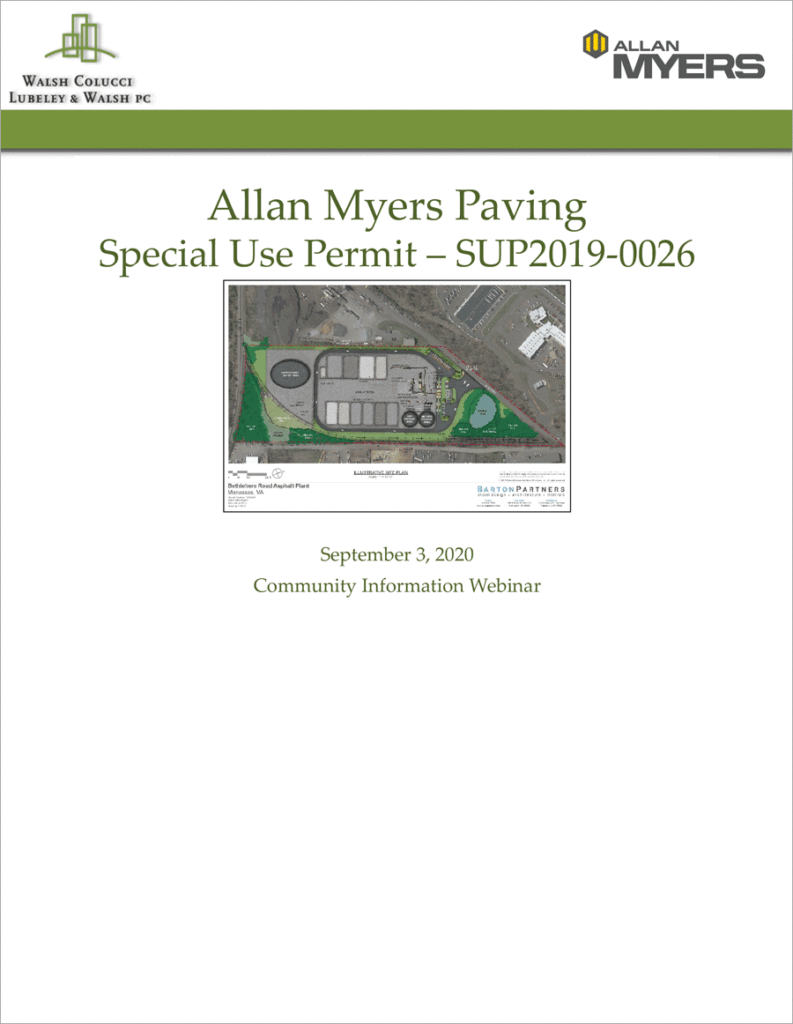 Frequently Asked Questions
Listening to community concerns and addressing them properly is a priority for this project. Several questions have been received via email, personal visit, door-to-door greetings and/or webinars. Please refer to this list of FAQs for more information:
What is the exact location of the proposed plant?
The proposed location is on Mason King Court though the physical site address for the United States Post Office is 7816 & 7814 Bethlehem Road.
Are roadway improvements planned to accommodate this new traffic?
If the Virginia Department of Transportation agrees to allow the connection of the road, Allan Myers trucks will be required to use Mason King Court through the industrial park to Balls Ford Road. VDOT is preparing the conditions to allow the connection. Neighboring facilities would be permitted to use the connection to access Balls Ford Road. Allan Myers would fund and build the connection.
What is the long-term plan for continued financial support to the school and community?
Allan Myers maintains long term commitments to our community partners throughout our geographic footprint. We plan to make the same types of commitments to this community, should we be fortunate enough to become a member. We have already contributed to Mullen Elementary to assist families with virtual learning. In addition, through our relationships with the ACE Mentoring program, STEM Program and SPARK, we plan to commit to an initial $50,000 per year for 5 years, at which time we will assess the partnership and determine what next steps to take.
What, if any, impacts will there be to public health, especially people with breathing issues?
The air quality limits have been established at levels that protect the health and well-being of people who may be particularly vulnerable to one or more common air pollutants. That population includes children and others with respiratory diseases such as asthma, and/or cardiac problems such that they suffer from angina when overexposed to certain pollutants.
What are the options Allan Myers is considering for noise mitigation for residents?
Incorporated into the $14 million investment is $500,000 for additional equipment to reduce sound, above and beyond what is required. This equipment includes a burner silencer kit and VFD motors. The main burner at a plant can be a fairly noisy component. With the burner silencer, you will not hear us. In addition, we have in our new proposed conditions with the county various options for diversion of truck traffic, a sound wall or window upgrades — all of which provide noise mitigation.
How many jobs will be created and what types of jobs?
This facility will create 50 new, well-paying jobs for Prince William County. Allan Myers would provide a wide range of jobs, from unskilled craft workers to skilled craft workers to professionals. According to Prince William Economic Development, the average annual salary in the county is $63,000. The estimated annual salary of the new Allan Myers jobs would be $50,000 to $140,000 — a weighted average of $67,000. When benefits are factored in, the compensation range is much higher.
What is the anticipated number of trucks to be expected?
Daily trips would range between 150-375 vehicles depending on the demand. This is a seasonal business and very weather dependent. At peak weather and temperature, traffic counts could be up to 375. On slower days, the traffic counts would be on the low end of 150. At certain times of the year the traffic count would be zero.
What is the frequency of trucks to be expected? 24/7?
Allan Myers must maintain flexibility for delivery to meet the needs of state and municipal customers that require work to be completed at night. Typical daytime operations are 7am–3pm and typical nighttime operations are 9pm–3am. Being permitted to operate 24/7 does not mean that we will. The business is season and weather dependent. Most asphalt has a temperature placement requirement of 40–50 degrees F. Night operations are therefore typically mid-April through mid-October.
What, if any, are the environmental impacts of this new facility?
An air dispersion study was performed for emissions from this proposed facility. Altogether, nearly 60 different asphalt plant-emissions were studied. In each case, the environmental impacts were found to be well within air quality limits set by either the U.S. EPA or the Virginia DEQ to protect people's health, with an ample margin of safety.
All of these emissions are already present in ambient air; primarily due to emissions from cars, trucks, furnaces, boilers, airplanes, power plants, and numerous other emission sources.
What, if any, impacts will there be to Mullen Elementary?
The air dispersion study focused on impacts to the nearest homes and nearest church (all on Bethlehem Road), as well as impacts on the nearest school, which is Mullen Elementary. As noted above, all of these impacts, for all emissions — even during the "worst case" hour, day, or year — were found to be acceptably small. The health of students and staff would not be harmed.
What is the distance from the proposed facility to Mullen Elementary and the closest residence?
The estimated distance to the nearest home in Kessler Ridge is 1300 feet and to the school 1450 feet. For reference, this is about 5 city blocks or five football fields. Final site plan approval may move this distance +/- 20 feet. Allan Myers operates other facilities in close proximity to neighborhoods and schools with no issues.
If you have a question not answered here, please submit to allanmyerspw@gmail.com
CONTACT US
Looking to partner, purchase materials or apply for career opportunities?
View our directory. For general inquiries, call: 1-610-584-6020.