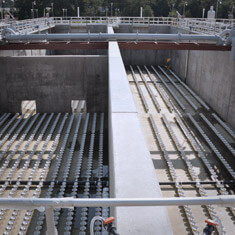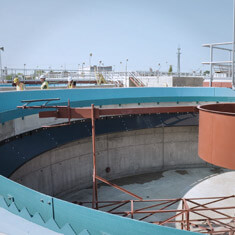 Mount Holly Waste Water Treatment Plant
The hardworking crews of Allan Myers took 21 months to upgrade the existing Mount Holly Waste Water Treatment Plant, a would-be routine task made decidedly more challenging by the necessity to complete all upgrades without interrupting any operations in the existing facility.
In total, this project meant multiple tasks, including the removal of head works grit and overall upgrade to the existing structures as well as the new and safe installation of the following:
Six-bay aeration tank with mixers and fine bubble distribution system
Three clarifiers with distribution box
Chlorine contact tank
Influent and drain pump station
Two odor control systems
Main control building


To maintain the parameters of the site owner's discharge permit and the need to avoid service disruption, Allan Myers crews installed several bypass pumping stations and temporary filter units to maintain during the length of construction.
With two main work locations and many moving parts, the project team prioritized constant and open communication between job team members, crews, engineers and site owners, including detailed weekly scheduling meetings, weekly safety meetings and daily crew huddles. In all, a total of 73,00 man-hours was completed with zero lost-time safety incidents or injuries and maintained constant coordinated communication.