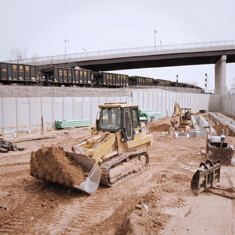 MARC Wedge Storage Yard
When it comes to transportation projects, small in size doesn't always mean small in scope. This was never clearer than when Allan Myers took on the project to build a "wedge" along the railroad yard adjacent to Union Station in Washington, DC.
In that small space, Allan Myers accomplished a significant amount to build maintenance centers approximately four feet below ground level so that locomotives can be serviced from below.
This involved excavation of more than 30,000 yards of material and the installation of perimeter integrity structures including 264 steel "H" piles and 15,000 sq. ft. of lagging, drain board and pre-cast walls. On top of this, 15,000 LF of water, drainage and sewer pipe will be installed to ensure smooth operation of the locomotive inspection station.
The owner of the site – the Maryland Transit Administration – gave the Allan Myers crews very favorable reviews for ahead-of-schedule project completion and very safe operations, something requiring unique planning because of the sites proximity to active railroad operations.