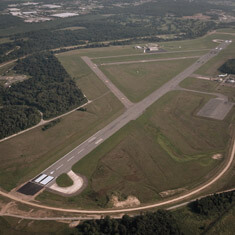 Aberdeen Test Track
Allan Myers was the prime contractor for a 4.5-mile, gravel-surface test track at Aberdeen Test Center in Maryland. Designed to replicate field conditions in many of the world's trouble spots, the track specifically measures the performance of heavy tracked equipment, particularly tanks.
The work included perimeter erosion and sediment controls, demolition of existing roadways and storm drain piping, stripping 74,000 cubic yards of topsoil, 387,000 cubic yards of bulk cut-to-fill and installation of underground utilities including storm drain, sanitary sewer and water line relocation. Crews also excavated and placed 30,000 cubic yards of government furnished sub-base material, 28,000 tons of DGA material, and 70,000 cubic yards of topsoil. Also included were permanent stabilization of the entire site and removal of existing airport runway overruns.
This job was delivered nine months ahead of schedule. This was made possible by utilizing resources in people and equipment from our multiple Allan Myers business units, which allowed us to run two full-time mass excavation crews and perform mass excavation seven days a week during good weather months. In addition, DGA and stone were supplied by our Elk Mills, Maryland materials facility which allowed for streamlined and controlled materials production schedule and delivery.
The most important component in the success of this job was the cooperation and partnering with the owner/ customer team to quickly resolve any issues and maintain the smooth flow of the project. We had worked at Aberdeen before, so they knew us and we knew them. The high level of mutual trust needed to get the work and perform the work had already been established. Proving once again, there's nothing better than working for a customer who wants to work with you again.