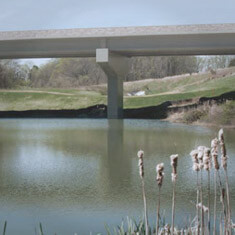 Route 52
In every project we're on, we're improving the environment so that it can be better used for people and communities. We take great pride in our efforts to preserve nature and its natural beauty – which is why we were honored to take on the unique task of relocating PA Route 52 alongside Longwood Gardens. The nature preserve is a world-famous 1,0007-acre site housing a botanical garden plants and trees you can't find anywhere else.
While our end result would be a finished roadway and 500 ft. bridge, the shared goal of the Allan Myers team, the Pennsylvania Department of Transportation and the Chester County Conservation District was to protect the ecological stability of Longwood Gardens.
With the environment as a backdrop, we had to work with a well-thought plan focused on environmental protection of the landscape and wetlands. This included:
10,500 LF of storm water management piping
3,600 tons of asphalt
58,000 tons of aggregate
89 precast structures


The materials were placed and structures were built successfully with a comprehensive erosion and sediment control plan in place, maximizing efficiency and environmental protection.