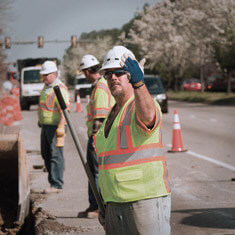 Middle Ground Boulevard
The Middle Ground Blvd highway and bridge construction project delivered much-needed and much-anticipated accessibility and congestion relief in midtown Newport News. The four-lane, divided highway traverses 1.25 miles between two heavily travelled traffic corridors, alleviating significant congestion on cross streets.
While building the new highway, Allan Myers had to consider unique geological issues caused by the soil conditions impacted by the James River emptying into the town situated along a peninsula. Working with design partner Rinker Design Associates, we implemented specific operations, materials and techniques for these specific job needs.
One such need unique need to the project was the land's lack of sufficient bedrock to support bridge abutment. To counteract this challenge, Allan Myers installed 16-inch-square concrete piles as long as 122 ft. while positioning corrugated alloy tubes around each pile to eliminate downdrag and prevent potential settlement from occurring during fill operations.
Newport News City Manager Neil Morgan praised the work of Allan Myers in improving the city's infrastructure, saying he was "extremely impressed" with how the team proceeded during through the entire project.