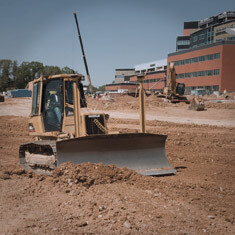 Fort Belvoir Community Hospital
The complete construction of the Fort Belvoir Community Hospital was an exercise in delivering strategically complex communication through open, frequent communication. With only 20 percent of design plans complete when we received notice to proceed, it was a project that could overwhelm an inexperienced contractor but was a welcome challenge for Allan Myers.
Coming in at the beginning and starting on an empty slate, Allan Myers delivered a complete site development package including:
Bulk Excavation
Grading
Solider piles and lagging
Retaining walls
Underground utilities
Concrete paving
Sidewalk and curb
Asphalt paving


The project was a joint venture with Allan Myers and project construction manager Turner/Gilbane Construction and included a total estimated 200,000 man-hours for completion all built to U.S. Army Corps of Engineers' high quality standards.
The project – which spanned close to four years in length – was managed and completed on-time thanks to the Allan Myers Production System (AMPS) and the Integrated/Design/Bid/ Build (IDBB) procurement process. AMPS and IDBB was critical and required close collaboration between the designer, project construction manager and construction contractor to achieve a mutually acceptable design and final price.
The Allan Myers Production System provided the tools and processes that dovetail perfectly with the requirements of the IDBB process, and more importantly, with the needs of our client so that construction could continue, despite final design incompletion.