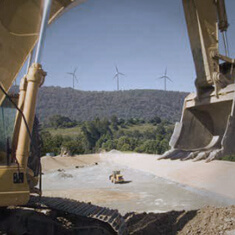 Marcellus Regional Construction
Extracting natural gas from the huge Marcellus Shale formation in northern Pennsylvania and northeastern Ohio is no small task, but its one that Allan Myers tackled head on.
Allan Myers was uniquely qualified for this work because we self-perform our work in all the construction disciplines required by the energy industry in the Marcellus region.
In short order, the crews of Allan Myers built the Detweiler Impoundment designed to hold the 8.9 million gallons of water used in the natural gas extraction process. The Detweiler installation is supplied by truck, with much of the water brought from the Wellsboro rail junction, where one million gallons arrive by train every day. It is pumped from the impoundment to the nearby wellhead. Other impoundments are supplied from approved rivers and streams in the region, and water is then trucked to the wellhead. Each installation is unique in its design and construction. In total, the six impoundment structures are able to hold approximately 80 million gallons of water.
Allan Myers takes environmental and safety considerations very seriously, as do the owners of the Marcellus projects. On all fronts, intense training is held and continuously benchmarked against the highest industry standards.