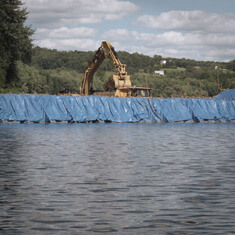 Jersey Shore Pump Station
The construction of a new pump station for AQUA of Pennsylvania on the banks of the Susquehanna River in Jersey Shore, PA, is a textbook example of the benefits of working outside the confines of a bid-build framework. Allan Myers used alternative project delivery methods throughout the project to inject efficiencies into the project and built upon experience and consensus to easily deliver and adjust to changes along the way.
The pump station construction included in-river work that was preceded by meticulous pre-planning to predict and react to river level rise and fall. The Allan Myers team used a modular cofferdam system that saved the owner money and shaved weeks off of the overall schedule while installing intake structures and piping.
The completed pump station was secured safely and quickly with project details including:
3,200 sq. ft. high lift-pump construction
35 ft. excavation
14 ft. diameter precast wet well


The final pump uses 4140 V, 900 HP pumps capable of pumping three MGD at 1,200 PSI, and will greatly increase water resources to customers throughout the region.