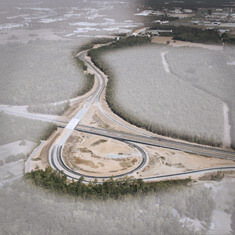 Richmond Airport Connector
The Richmond Airport Connector Road (ACR) was Allan Myers' first public-private-partnership design build project in Virginia and was considered by many to be the most anticipated two miles of new highway in the city. The new road would alleviate significant traffic congestion by providing a direct highway to the airport.
Allan Myers partnered with lead design firm Dewberry, property owner Transurban and the Virginia Department of Transportation. By championing open communication and careful preplanning, we were able to secure the right footing before breaking ground and maintained that discipline until the first car drove across the completed roadway.
The scope of the project included a significant number of details.
422,737 cubic yards of import
16,541 lineal feet of storm drainage
111,511 square feet of MSE walls
133,507 tons of stone base and paving


Early coordination and approvals from stakeholders allowed the project to flow with no disruptions or delays. In fact, the 143,000 total project hours were completed ahead of schedule with no quality or lost-time injuries from Allan Myers crews, subcontractors or partners.