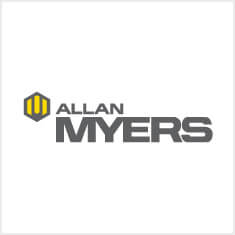 Recruiting Campaign Banner Page
At Allan Myers, you'll conquer unique challenges that require brain and brawn. You'll accomplish more than you ever thought possible, push yourself farther than you ever dreamed and reap rewards more valuable than you expected.  As the elite men and women of our team, you'll spend every day building the future of our country and rest every night knowing you made a difference. Through it all, you'll enjoy an atmosphere that allows you to grow and learn so that no matter the project you're working on, in the end, the main thing you're building is you.
CONTINUOUS LEARNING: THE ALLAN MYERS WAY

We'll equip you with the tools you need to do your job safely and effectively from the start, and provide you with resources to grow with us and watch your opportunities expand. You get to build the road to your future – bridges and all – with our state-of-the-art and award-winning Continuous Learning Center (CLC).
In addition to established training development programs that keep operations running smoothly, the CLC offers more than 50 separate courses covering everything from field operations and safety to management and leadership development.