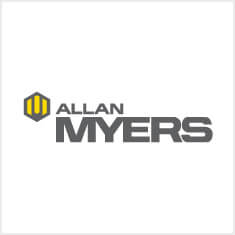 Craft & Labor
Exciting projects, a team like no other… all vertically integrated at Allan Myers, the largest heavy civil construction and materials production contractor in the Mid-Atlantic. At Myers, you'll be part of an elite team working on the best projects in the Mid-Atlantic.
As a fully-integrated construction contractor and materials provider, we self perform our own projects. As a craft laborer, you'll enjoy the benefits of working with skilled teams dedicated to what they do, and reap the rewards of career advancement from a company dedicating to rewarding hard work. You'll work on well-maintained equipment that's among the newest in the industry on projects that define the region and make it a better place to live.
We're construction contractors with pride who champion professionalism and quality. If you're excited by the idea of working with the earth to build better structures for tomorrow, all while building yourself, let us know. We're always looking to expand our team in the following areas:
• General Labor
• Heavy Equipment Operators
• Truck Drivers
• Carpentry
• Concrete
• Paving
• Pipe and Excavation
• Mechanics
For more information regarding career opportunities in Delaware, Maryland, Pennsylvania or Virginia, please click here to see our current job openings.