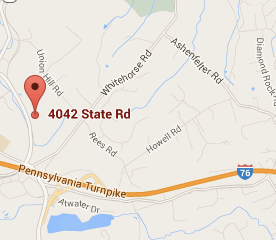 ASHPALT

QUARRIES

Devault Quarry, Pennsylvania
Devault Quarry produces a variety of granite aggregate products, including clean products, base products, rip rap and screenings. These products are used for road construction and developments, as well as in materials such as asphalt and concrete.
Devault Quarry has supplied many projects, including SR202, the PA Turnpike, and shoreline restoration projects in New Jersey.
Devault Quarry is located on Route 29 in Charlestown Township, Chester County, Pennsylvania.
ADDRESS
4042 State Road
Devault, PA 19342
HOURS
6 a.m. to 4 p.m. on weekdays.
Nights and weekends can be scheduled.
CONTACT INFORMATION
Main
610-296-1793

Sales
Steve Storti
215-470-6059
steve.storti@allanmyers.com
AREAS SERVED
Pennsylvania
Chester County
Montgomery County
Delaware County
Bucks County
Berks County
Philadelphia
Philadelphia Suburbs
The Main Line
Metro Philadelphia
New Jersey
Selected Areas
PRODUCTS
Base and Crusher Run
2A
2 RC

Concrete and Bedding
2B
AASHTO #57

Asphalt Aggregate
1B
AASHTO #57
AASHTO #8
#10 Screenings

Boulders

Dust and Screenings
#10 Screenings

Rip Rap
R5
R6
R7
R8