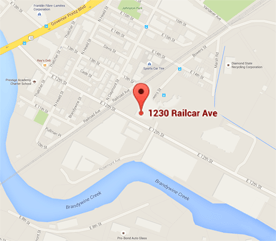 ASPHALT

QUARRIES

Wilmington Asphalt Plant
Our Wilmington Asphalt facility is located at 1230 Railcar Ave Wilmington DE 19802. We supply DELDOT, PENDOT and MSHA approved mixes as well as multiple commercial asphalt products in the areas of New Castle and Kent counties in Delaware. Chester and Delaware counties in PA and Cecil county in MD.
This location is equipped with a GENCOR Counter- Flow Drum plant capable of producing 300T per hour along with three, 180T storage silos enabling us to service any size project from driveway to highway.
The QC lab is state approved by DE, PA and MD.
Clean millings are accepted (fees may apply)
ADDRESS
1230 Railcar Avenue
Wilmington, DE 19802
HOURS
6 a.m. to 4 p.m. on weekdays
Nights and weekends can be scheduled.
CONTACT INFORMATION
Plant/Asphalt Tower
302-922-5530
Brian Hart, Sales Rep
brian.hart@allanmyers.com
Cell: 410-746-6512
AREAS SERVED
Maryland
Cecil County
Pennsylvania
Southern Chester County
Delaware County
Delaware
New Castle County
PRODUCTS 
MSHA Approved Mixes
DelDOT Approved Mixes
PennDOT Approved Mixes
4.75 MM
9.5MM
12.5MM
19MM
25MM
Pervious Mixes
GAP/SMA Mixes
High Polish Mixes
Commercial Parking Lot and Driveway Mixes
Processed RAP
Tack – Bulk or 5 Gallon Buckets
Asphalt Millings