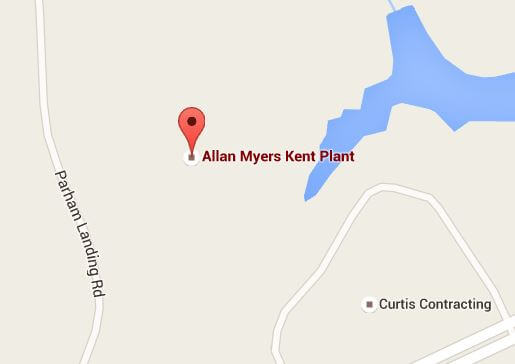 ASPHALT

QUARRIES

New Kent Asphalt Plant, Virginia
Our New Kent Asphalt plant provides VDOT-approved mixes and quality commercial mixes to the County of New Kent and the surrounding areas of West Point, Providence Forge, Toano, King William, Saluda, Urbana, Middlesex, Gloucester in Virginia.
This location is equipped with a 400 TPH, Gencor Drum Mix Plant and is capable of producing Warm Mix and SMA mixes, and has 400 tons of Hot Mix storage, with overnight storage capabilities.
New Kent Asphalt Plant is located off of Route 33, a few miles off I-64 at West Point exit 220
ADDRESS
7701 Parham Landing Rd, West Point VA, 23181
HOURS
7 a.m. to 5 p.m. on weekdays. Night and weekend hours can be scheduled.
CONTACT INFORMATION
Plant/Asphalt Tower – 757-250-3091
Glenn Muse – Sales Rep
glenn.muse@allanmyers.com
Office: 757-250-3094
Cell: 804-432-6662
AREAS SERVED
MIDDLESEX
CAROLINE
ESSEX
WESTMORLAND
CHESTERFIELD
GLOUCESTER
HANOVER
CHARLES CITY
MATTHEWS
KING AND QUEEN
NEW KENT
RICHMOND COUNTY
RICHMOND CITY
PETERSBURG CITY
NEWPORT NEWS CITY
HAMPTON CITY
JAMES CITY COUNTY
WILLIAMSBURG CITY
SUSSEX
PRINCE GEORGE
LANCASTER
NORTHUMBERLAND
DINWIDDIE
HENRICO
SURRY
ISLE OF WIGHT
SUFFOLK
YORK
KING WILLIAM
PRODUCTS
VDOT Approved Superpave Mixes
SM9.0MM
SM9.5MM
SM12.5MM
SM19.0MM
SM25.0MM
VDOT Approved SMA Mixes
Processed and Unprocessed Rap
Tack 5 Gallon Buckets