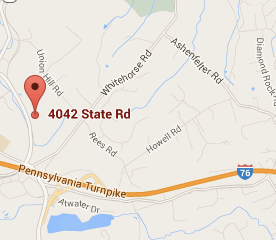 ASPHALT

QUARRIES

Devault Asphalt Plant, Pennsylvania
Devault Asphalt Plant provides PennDOT- and Turnpike-approved mixes as well as quality commercial materials to contractors in Chester, Montgomery and Delaware Counties.
Devault Asphalt Plant is a Cedar Rapids/Standard Haven plant capable of 500 TPH. It is also able to produce Warm Mix. Its five silos each have 200 tons of storage. The facility has received the Diamond Achievement Commendation.
Devault Asphalt Plant is located on State Road and Charlestown Road in Chester County, Pa., minutes from Phoenixville and Malvern on the Main Line.
ADDRESS
4045 State Road, Route 29 and Charlestown Road
Devault, PA 19432
HOURS
6 a.m. to 4 p.m. on weekdays.
Nights and weekends can be scheduled.
CONTACT INFORMATION
Plant/Asphalt Tower
610-296-1723

Michael J. Sau
michael.sau@allanmyers.com
Office: 610-560-7927
Cell: 610-960-3152
Fax: 610-222-2356
AREAS SERVED
Pennsylvania
Chester County
Montgomery County
Delaware County
PRODUCTS
9.5MM/ID-2 Wearing
12.5MM/ID-3 Wearing
19MM/ID-2 Binder
25MM/BCBC
Coldpatch
QPR — Coldpatch
Millings
Top RAP
AC20
Bulk Tack
Tack — 5 Gallon Buckets
Turnpike Mixes