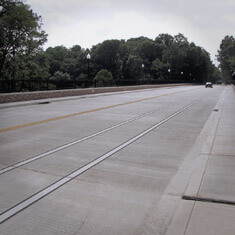 Argonne Drive Bridge
The best constructions aren't simply concrete structures that get the job done, but structures that expertly balance utility and aesthetic. Bridges and other structures should look like they belong in an area. Such was the task for Allan Myers when reconstructing a bridge that – while within the city limits of the busting Baltimore, MD – was surrounded by winding roads, tree-lined lanes, cottages and well kept flower beds.
The crews of Allan Myers took a design respective of the look and landscape of its surroundings and translated it into reality. Before beginning construction crews had to demolish the old bridge, build an access road alongside the stream below the bridge to allow a crane to work on the project, and undergo special lead-abatement training to complete the task safely.
Once that was in place, construction required four new formed-and-poured pier caps to support the beams and deck of the new 400 ft. bridge. This plus utility upgrades, excavation, concrete work and new waterline installation was also accomplished to complete the project seven months ahead of schedule.