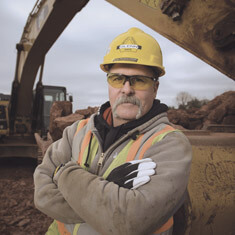 Our Attributes
We possess the qualities that drive us to constantly live up to our calling to be always better, faster and safe. These are the characteristics that make us who we are and what you can expect to see from every employee on every project.
TEAMWORK
Complex challenges require an extreme level of teamwork and collaboration, the kind found only among people who share a powerful ethic, who rely on one another, trust and support each other, and work, fight and win as one.
HARD WORK
Some say it's drive, others say it's a calling; no matter what you say, the truth is clear: We are 100 percent dedicated to working hard to build our communities. We do the heavy lifting and intense planning, and we're motivated because we're helping people by providing the infrastructure needed to improve lives.
SAFETY
We're safe — always — because of care, concern and a personal commitment to sending you home safe tonight. For us, safety is a way of thinking, a code of conduct, a culture — this is an organization that takes great steps to look out for the lives with which we are entrusted.
PROFESSIONALISM
Professionalism is built into our DNA. It encompasses integrity, persistence, perseverance and an overwhelming drive to do things the right way, despite the temptation of shortcuts or those dark moments when things don't go as planned.
HERITAGE
We know our industry: the ins and outs of the job, the obstacles and solutions, customer needs and demands, what it really takes to do quality work. And we leverage our wisdom to advance new thinking and a progressive, visionary view.